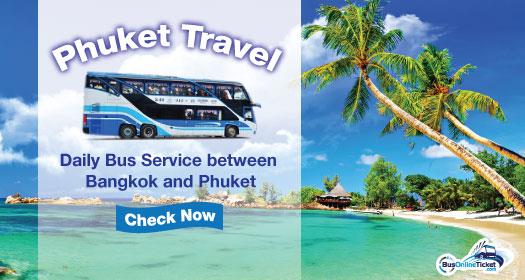 BusOnlineTicket is delighted to welcome Phuket Travel in our listing of bus services at BusOnlineTicket.co.th, offering their services between Bangkok and Phuket through online booking. With 4 scheduled trips daily, Phuket Travel provides bus from Bangkok to Phuket only in the evenings. As for the bus from Phuket to Bangkok, there are 7 scheduled trips daily, consisting of 1 in the morning and 6 in the evening.
Phuket Travel is one of the most well-known bus operators in Thailand that offers express bus service between Bangkok and Phuket. For bus from Bangkok to Phuket, their boarding point is conveniently located at Southern bus terminal (or known by locals as Sai Tai Mai bus terminal). The coach will then arrive at the Phuket bus terminal, located in Phuket town. Any passengers who plan to go to hotel in Patong Beach area from there are able to take a taxi with the average price of THB450.
The bus fare is also reasonably priced, ranging from THB650 to THB1000, depending on the bus type. The following are some general tips or pointers to help passengers choose the suitable bus type:
– The more comfortable the bus is and the more spacious the seats are, the higher the price will be.
– Budget travellers who don't mind the standardised bus conditions are welcome to go for the least expensive bus, which is the THB650.
– For those who don't mind paying a little extra for more comfort can opt for the higher quality bus service.
Hurry and book your Phuket Travel tickets online for bus from Bangkok to Phuket and Phuket to Bangkok via www.busonlineticket.co.th!