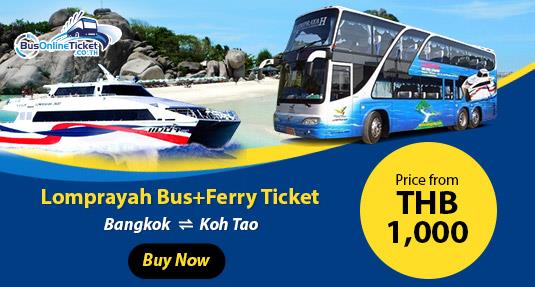 Besides being known for its prestigious bus and ferry services among the three islands: Koh Samui, Koh Tao and Koh Phangan in Southern Thailand,
Lomprayah
has now engaged with BusOnlineTicket.co.th to offer another great route!
You can now enjoy the safe and comfortable Lomprayah service via bus and ferry between Khao San Road, Bangkok and Koh Tao. Not only are the rates affordable that start from THB1,000, Lomprayah is also known as the first and the only high-speed catamaran passenger ferry operation in Thailand, it is no doubt that travelling with Lomprayah is the best way to get from Bangkok to Koh Tao.
If you have enjoyed enough of the city shopping and street food of Khao San Road, hop on to Koh Tao via Lomprayah service where you can indulge in the beauty of the island. Chill by the sunset at Sairee beach, munch on the fresh seafood at the Sairee Cottage Restaurant or Sairee Hut for the best fishy BBQ, grab the banana pancake for less than THB50 or even take a boat to the neighbouring island of Koh Nang Yuan for a snorkelling adventure or a hiking experience to get the best view of the island from the top.
All these experiences are definitely value for money, thanks to Lomprayah service that provides a safe and comfortable journey to its passengers. So, wait no more and make ticket booking via our user-friendly booking machine here at BusOnlineTicket.co.th to start your adventure between Bangkok and Koh Tao !