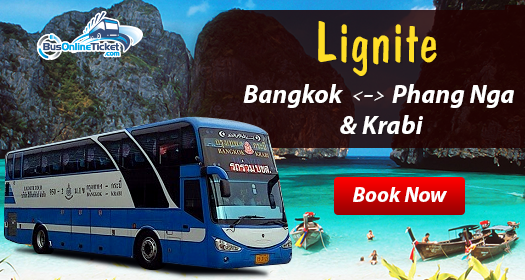 BusOnlineTicket is happy to present
Lignite Tour
, a reputable bus company in Thailand that offers bus services between Bangkok, Krabi and Phang Nga.
Due to the popularity of the brand, Lignite Tour has 3 types of coaches, which are:
VIP bus with 24-seats
VIP high-deck bus
Standard express bus
The bus fares are also reasonably priced. For the bus that goes between Bangkok and Krabi, the ticket price ranges from 700 baht to 1,000 baht (US$20 – 33), depending on the bus type. And as for the bus that goes between Bangkok and Phang Nga, the price ranges from 650 baht to 1,000 baht (US$19 – 33).
Also, passengers should take note that if the desired destination is Ao Nang, passengers can take the bus from Bangkok to Krabi and take the city bus (Song-thaew) to Ao Nang beach, which is a mere 25-minute journey by driving from the Krabi bus terminal.
Here are some general tips and pointers in order to help passengers choose the perfect bus type that suits them:
– Take note that the price for the more comfortable buses are higher compared to the standard buses.
– For those who wouldn't mind paying a little extra for additional comfort can opt for the higher quality bus service.
Now that Lignite Tour has joined BusOnlineTicket, customers can purchase their tickets for this bus service through online booking. Get your tickets for the Lignite Tour bus today!