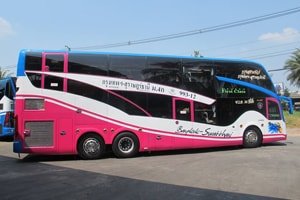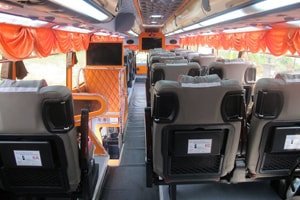 Krung Siam Tour,also known as Krung Siam Airbus Co.Ltd, is a bus company based in Taling Chan, Bangkok. It is a tour bus services provider for bus service between Bangkok and Surat Thani.
Over 30 years, Krung Siam Tour has operated the tour bus business that transport passengers and parcels by focusing on safety.
Krung Siam Tour 's company slogan is "Safety in Every Trip". In every trip, they have 2 drivers. One is the main driver, another one is the substitution of driver to ensure customer safety. All their drivers are experienced and polite. Moreover, Krung Siam Tour's Scania buses are always in good condition. All seats in the bus are massage seats and inside the bus there is personal televisions(PTVs) for every passengers to watch movies, listen to music and play games.
Furthermore, Krung Siam Tour always take customer feedback to improve theor services in order to make sure they reach their customer satisfaction level.
Krung Siam Tour operates the bus services between:
Head Office:
Bangkok Ratchadamnoen Office / Krungsiam Tour BKK Ratchadamnoen Branch
Office hours 7am – 5pm
Phone: 02-282-2118, 02-282-1211.
Main Bus Terminal:
Southern Bangkok Bus Terminal (Sai Tai Mai)
Borommaratchachonnani Road, Chim Phli, Taling Chan, Bangkok 10170
Krung Siam Tour Schedule and Tickets

Please Note: Changes to fares and time schedules are at the discretion of the bus/ferry operators.