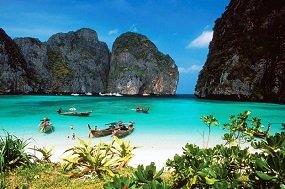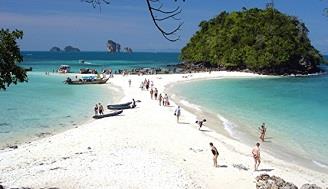 Krabi
Located on the west coast of Thailand, Krabi is among the most picturesque provinces of Thailand characterized by white sandy beaches and verdant greenery. This relatively untouched tourist destination gives visitors a choice of 200 islands that they can move around and visit throughout their stay.
Destination guide
The coastal town of Krabi lies at the meeting point of Krabi river where it empties itself into the Phang Nga Bay.
Koh Lanta – This is a beautiful archipelago of 52 islands, of which the largest is Koh Lanta Yai. It is easy to visit this region by car or a tourist bus as it is only 70 kms from Krabi town and is less crowded. The main island has beautiful resorts facing the beach and close to lush jungle for an idyllic holiday.
Khao Khanab Nam – These two limestone hillocks covered with thick vegetation outside Krabi town with the Maenam Krabi River meandering gently between them is the most photographed destination. You can get a closer look of these hills, caves and mangrove forests by hiring a traditional long tail boat to take you back and forth.
Phi Phi Islands – Considered the most scenic islands in Southeast Asia, these picture postcard islands are in every tourist's itinerary to Thailand. The crystal clear waters are ideal for scuba divers and all hotels in the area offer scuba diving trips for guests with life jackets and diving equipment.
WathTham Sua– This historical temple complex is set within natural caves deep insides the mountains and is surrounded by lush jungles. The main attractions here is the 'Buddha's footprint' and also a tiger's paw print along with many religious relics. Walk up the tiring 1237 steps to the summit is worthwhile, as you can get a 360 degree view of majestic Andaman Sea along with lush rainforests and stunning vistas of far horizons.
Hotel guide
Most hotels are located on the picturesque islands and you can choose a hotel on the islands you want to explore the most.
Deevana Plaza Krabi – Located near the Ao Phra Nang Beach, this four star hotel is close to shopping areas and famous Railay Beach area.
Centara Grand Beach Resorts and Villas – This attractive beachfront resort is surrounded by thick vegetation and is close to historic Shell Fossil Beach.
Wareekrak Retreat – Set in remote natural surroundings, this resort is ideal for backpackers as it is a long walk from main roads. It is close to natural hot springs.
Nakamanda Beach Resort – This five star luxury resort is located on Klong Muang Beach and is surrounded by beautiful forests and plantations. It offers beautiful views of the Andaman Sea and is within easy driving distance to most scenic spots of the area.
Bus Guide
There are numbers of bus operators offering trips from Krabi to other destinations in southern Thailand. They include
– My Son Krabi Tours (Bus from Krabi to Hatyai)
The bus station located four kilometers out of town center in TaladKao has buses to Phuket, Koh Samui, Surat Thani and other tourist destinations around the islands. Some bus services to these destinations include
– Lomprayah (Bus from Krabi to Koh Samui)
– Lignite (Bus from Krabi to Bangkok)
– Chaokoh Travel Center (Bus from Krabi to Phuket)