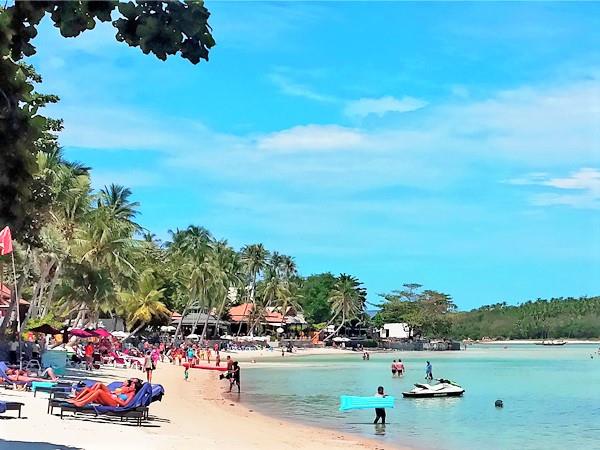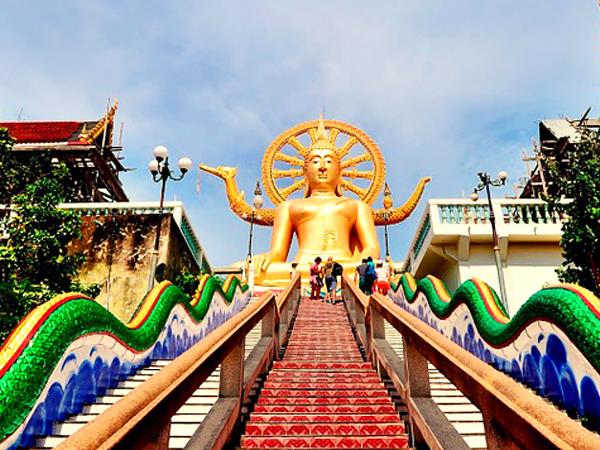 Koh Samui
Koh Samui is another gorgeous island on the Gulf of Thailand with its own exceptional qualities.
The easiest way to get to Koh Samui is by flight and the passengers will drop off in the Koh Samui Airport. Other alternatives are by taking the bus or train to Surat Thani and then taking the ferry from Surat Thani to Koh Samui.
Snorkelling, diving, kitesurfing, golf, boxing and cruises are among fun things you can do in Koh Samui.
Destination guide
Koh Samui, being the second largest island in Thailand has many to offer to their visitors. Its attractions appeal to wide range of visitors from different age group with different interest.
Acknowledged for their soothing views on its pristine beaches, Koh Samui also holds parties at nights in bars and club.
Here are some of the suggested places to go in Koh Samui:
Chaweng Beach – Recognized for its fine pristine beaches, emerald-blue water, also good music and parties at night, Chaweng beach attracts a diverse group of visitors from budget backpackers to those looking for luxurious vacations. The long beach can be divided into four regions with accommodation scattered along the beach to cater for different needs of their visitors.
Lamai Beach – Lamai beach is famous for families and couples. It is less crowded compared to Chaweng beach but still fun with a range of water sports facilities, restaurants and of course, the gorgeous beach for those seeking a rejuvenating relaxation on their vacation.
Bophut Beach – Here lays the Fisherman's Village. Located to the north, Bophut Beach is a must-go especially if you are a foodie. There are plentiful of cafes and restaurants with different type of excellent wining and dining located in here.
Maenam Beach – Located in the north part of the island, Maenam Beach is also perfect for families as the water is shallower here for swimming and safer for the kids. Less crowded than Chaweng, Maenam Beach offers tranquillity and perfect for relaxation.
The Big Buddha Temple (Wat Phra Yai) – Majestic, is the perfect word to describe the Big Buddha Temple once you see it. Located on the northern coast of Koh Samui, the 12-metre golden Buddha statue would probably catch your eyes first when you land in the airport as they are situated nearby to each other. This magnificent statue was built in 1972. It is one of the highly recommended places for tourist known for its stunning view once you climbed up the stairs.
Hotel guide
Enjoy varieties of great cuisine from all over the world including local food offered in many Koh Samui's restaurants especially in Bophut. Budget hotels to luxurious hotels all can be found on the island, dotted alongside its beaches.
Bonny Hotel – The hotel has a good reputation among visitors for its quality service with an affordable rate. Located in Lamai Beach, you can easily walk to the beach for water sports activities. They also offer transportation service from the airport and ferry terminal.
Buri Rasa Village Samui – Try this hotel if you are planning to stay in Chaweng Beach. This 4-star hotel has win award for its excellent service. You can easily walk to the beach as it is located at the center of the beach.
Transportation guide
Apart from the flight, you can reach Koh Samui by taking ferry from Surat Thani. And to reach Surat Thani, you can either opt for bus or train depends on your location. Here is a simple guide to get from Bangkok to Ko Samui:
Direct service – Lomprayah offers a direct bus + ferry service from Bangkok to Koh Samui. Therefore, you do not need to worry about making another booking for ferry service. Just book one time from Lomprayah and enjoy your trip.
Other alternative – Bangkok → Surat Thani → Koh Samui
From Bangkok to Surat Thani, you can either take the train from Hua Lamphong train station to Surat Thani Railway station or take the bus with Lignite Tour, Krung Siam Tour or Choke Anan Tour. Then, you can take the ferry service with Raja Ferry or Phangan Tour 2000 from Surat Thani to Koh Samui. Some of the services will pick up the passengers from Surat Thani town to the pier and drop them off in one of the piers in Koh Samui.
Lipa Noi Pier – Lipa Noi Pier is located at the west side of Koh Samui. Raja Ferry office is located at this pier. Most of the drop off point for ferry will be in this pier.
Nathon Pier – Nathon Pier is located further north from Lipa Noi Pier. Nathon Pier will be the drop-off point for Seatran Ferry as its office is located nearby the pier. Seatran Ferry is another ferry service that provides ferry from Surat Thani to Koh Samui.
Maenam Pier – Maenam Pier is located at the north side of Koh Samui Island. It is the drop-off point for Lomprayah ferry who offers bus + ferry service from Bangkok to Koh Samui.