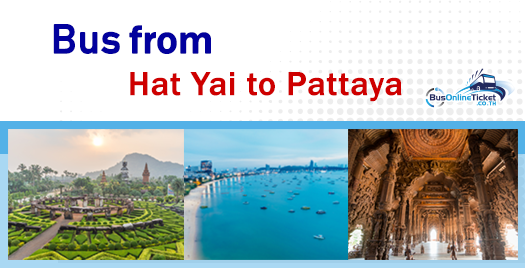 Check Hat Yai to Pattaya Bus Schedule >>
Hat Yai to Pattaya is one of the famous tourist routes from the South to the East. Pattaya is the place that you can travel throughout the year, because there are many activities to do, you can travel with friends, couples or family.
How to Get from Hat Yai to Pattaya
Both tourists and locals from Hat Yai take the bus service to travel to Pattaya. There is no train service available for this route. Even though there is flight service available, the flight ticket is usually 2 or 3 times more expensive than bus ticket unless you bought it under promotion.
How Long is the Journey to get from Hat Yai to Pattaya
The duration from Hat Yai to Pattaya is about 18 hours.
How Far is Hat Yai to Pattaya
Distance from Hat Yai to Pattaya is about 1072 km.
Bus Operator for Hat Yai to Pattaya
Piya Rungrueng Tour is the only bus operator serving bus from Hat Yai to Pattaya. There are 2 types of bus, VIP 24 seats and VIP 32 seats.
For bus schedule, Piya Rungrueng Tour provides 1 daily departure, at 3:30 pm.
The earliest bus goes at 8:00am. The following bus schedules are 9:30am, 10:30am, 11:45am, 1:00pm, 6:00pm, 7:30pm and 9:30pm.
How much is the Bus Fare from Hat Yai to Pattaya
The bus ticket price from Hat Yai to Pattaya is charged between the range of THB 951 to THB 1,268.
Where is the Boarding Point in Hat Yai
The boarding point in Hat Yai is located at Hat Yai Bus Terminal.
Where is the Arrival Point in Pattaya
The arrivals point in Pattaya is at Pattaya Phet Prasert Office.
How do I Book Bus Service from Hat Yai to Pattaya?

You can either visit the terminal and go the booth belonging to the bus operator of your choice, wait in line, select a seat, and book your ticket. If you would rather not do that, you can visit www.busonlineticket.co.th and book your seat within 5 minutes.
How can I make an online bus ticket booking in Thailand?

You can book a bus of your choice to any destination in Thailand by logging on to the official website of BusOnlineTicket which is https://www.busonlineticket.co.th/. The site is user-friendly and you can book your bus ticket in a matter of minutes.
Hat Yai to Pattaya Bus Schedule