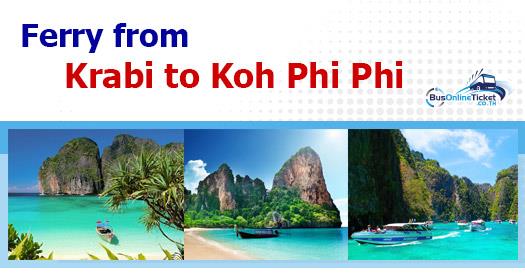 Check Krabi to Koh Phi Phi Ferry Schedule >>
Ferry from Krabi to Koh Phi Phi has become one of the popular route in recent years. With the emerging top attraction at both Krabi Ao Nang and Koh Phi Phi, more travellers are visiting both attractions during their visit in Thailand.
How to Get from Krabi to Koh Phi Phi
The ferry service between Krabi and Koh Phi Phi turn into an important transport to connect the two attractions.
Please note that ferry service might be cancelled due to weather condition and then reopen when the weather improves.
Service Operator for Krabi to Koh Phi Phi
Andaman Wave Master, Chaokoh Travel Center and Tigerline Travel are the few ferry operators who provide online booking for ferry from Krabi to Koh Phi Phi. Ferry service to Koh Phi Phi from Krabi is available from early morning 08:15 till afternoon 15:00.
Andaman Wave Master is the operators with good reputation and reliable service ferry operator. The standard seating in Andaman Wave Master's ferries are modern equipped with air conditioning, spacious seats, clean toilets. They even serve the first-class VIP seat, passengers just need to top up additional THB300 to enjoy the luxury service. Stringent luggage management is practised by Andaman Wave Master operation team to ensure safety of passengers' luggage.
How Long is the Journey to get from Krabi to Koh Phi Phi?
The duration from Krabi to Koh Phi Phi takes about 2 hours.
How much is the Ferry Service from Krabi to Koh Phi Phi?
The fare for ferry service from Krabi to Koh Koh Phi Phi is reasonably priced in the range of THB 450- THB 900 depending on ferry operator.
Special note to all passengers: All visitors are required to contribute THB 20 for the conservation of Koh Phi Phi.
Where is the Boarding Point in Krabi?
The ferry boarding point in Krabi is at Klong Jilard Pier.
Where is the Arrival Point in Koh Phi Phi?
The arrival point in Koh Phi Phi is at Tonsai Pier.
How do I Book Ferry Service from Krabi to Koh Phi Phi?

You can either visit the terminal and go the booth belonging to the ferry operator of your choice, wait in line, select a seat, and book your ticket. If you would rather not do that, you can visit www.busonlineticket.co.th and book your seat within 5 minutes.
How can I make an online ferry ticket booking in Thailand?

You can book a ferry of your choice to any destination in Thailand by logging on to the official website of BusOnlineTicket which is https://www.busonlineticket.co.th/. The site is user-friendly and you can book your ferry ticket in a matter of minutes.
Krabi to Koh Phi Phi Ferry Schedule