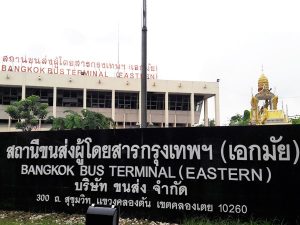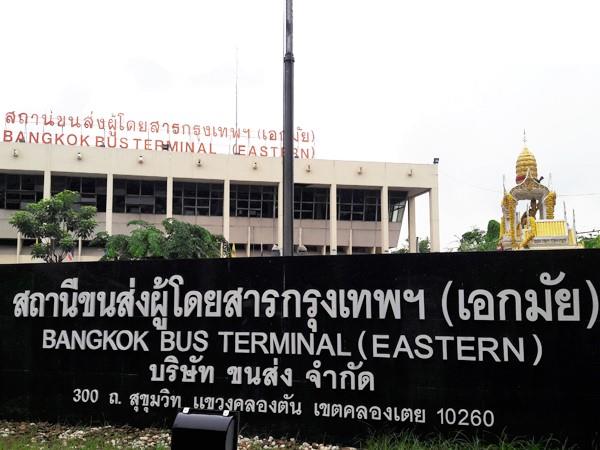 Eastern Bangkok Bus Terminal (Ekamai) is located along Sukhumvit Road, Khwaeng Phra Khanong, Khet Khlong Toei in Bangkok. The Ekamai Bus Station is within walking distance from Ekkamai BTS Station.
As the name suggests, Eastern Bangkok Bus Terminal (Ekamai) primarily has bus and minivan services from Bangkok to the eastern provinces of Thailand. These will include routes from Bangkok to Trat, Rayong, Sa Kaeo, Chanthaburi, Chonburi, and Pattaya.
Ticket counters
Ticket counters are conveniently located at the entrance of the bus terminal. Ticket prices are displayed prominently above each counter booth, allowing for easy comparison among the different bus operators.
Popular destinations include Pattaya, Trat, Koh Chang, and Koh Samet. Roong Reuang Coach, or Pattaya Bus, is the most preferred bus operator for tourists who wish to travel from Bangkok to Pattaya.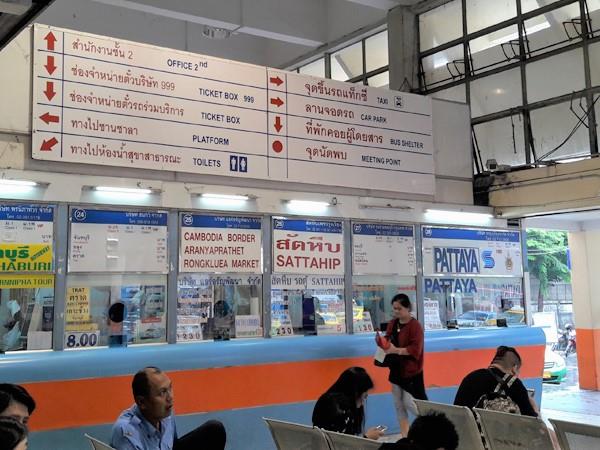 Sitting area
The ticket counters surround a sitting area for passengers who are waiting to board their buses. Here, you will find a television set for your viewing pleasure. This waiting area is open-air, but has several fans to keep travellers cool. Booking Bangkok bus tickets can also be done online at BusOnlineTicket.co.th at any time and from any where at your convenience.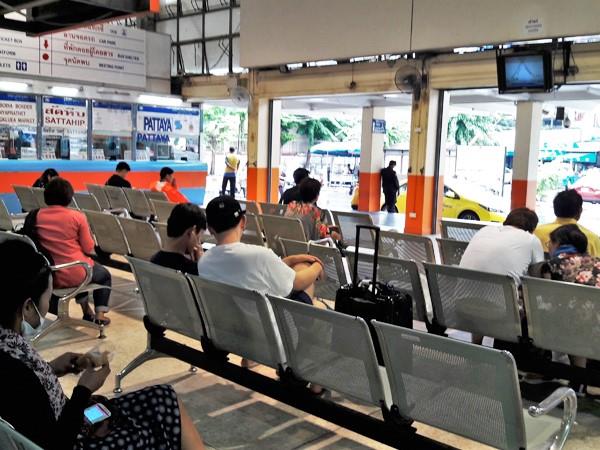 Minimarts and restrooms
Restrooms are located outside the Eastern Bangkok Bus Terminal (Ekamai) building. Simply look for the minimart outside and there will be a sign pointing you towards the restrooms.
Ekamai Bus Station's toilets are available for use, free of charge. However, like most bus terminals, toilet paper is not provided and has to be purchased for a small fee. It would be best to keep some toilet paper handy!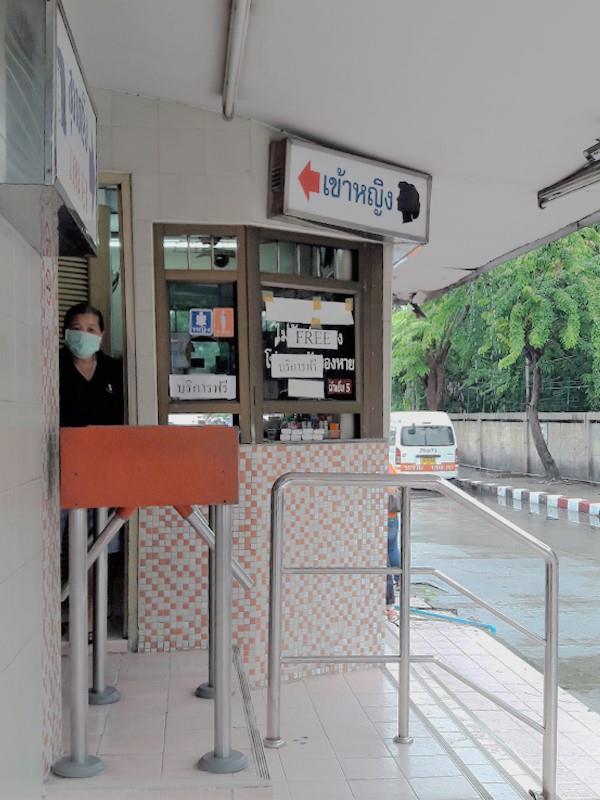 Despite its small size, Ekamai Bus Station boasts several minimarts. You can buy snacks, drinks, cigarettes, and many more items there. Next to one of the minimarts are ATM machines, should you require more Thai Baht.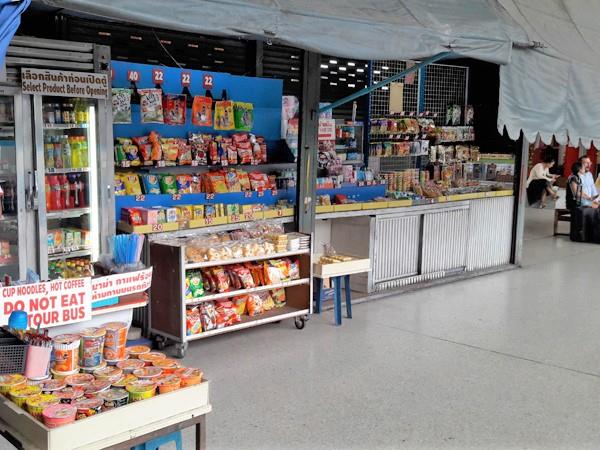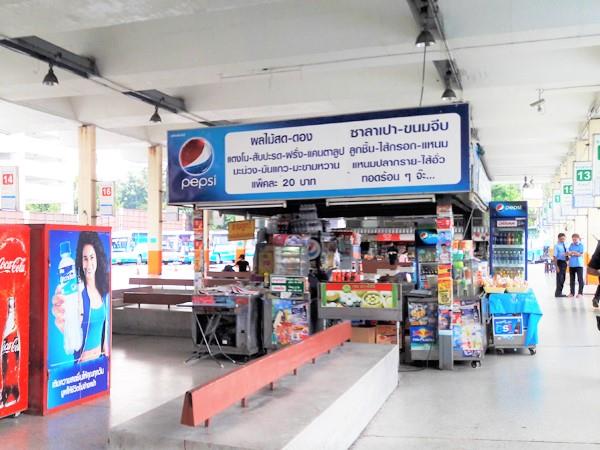 Bus platform
The bus platform area is big and spacious. There are more seats available for passengers to wait for their bus here. Buses at parked on one side of the platform, while the other side serves as a parking bay for minivans.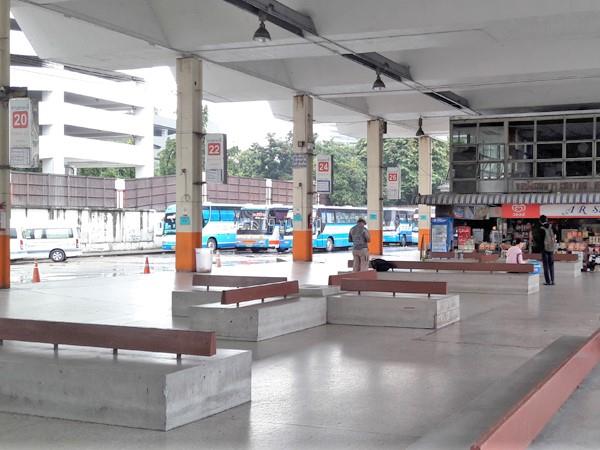 Taxis
For travellers arriving at Ekamai Bus Terminal, there are taxis readily available at the entrance of the bus station. Motorcycle taxis are also located at a shelter in front of the building.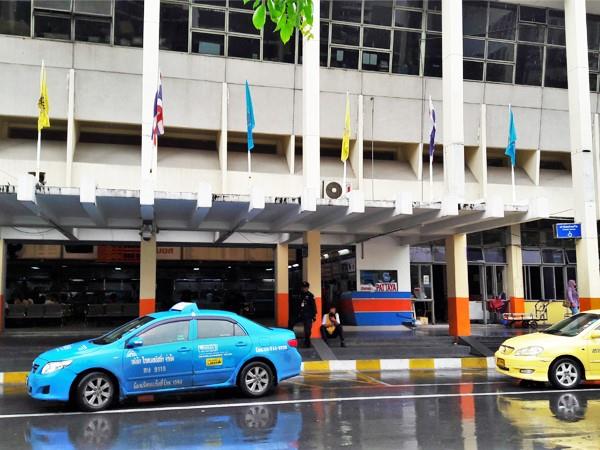 How to get there
For travellers arriving at Suvarnabhumi Airport,
Take the Airport Rail Link to Makkasan ARL Station (Phetchaburi MRT Station)
Take the MRT from Phetchaburi Station to Sukhumvit MRT Station (Asok BTS Station)
Change to the BTS Skytrain from Asok BTS Station to Ekkamai BTS Station
Take Exit 2, and walk about 50 metres to reach Eastern Bus Terminal (Ekamai)