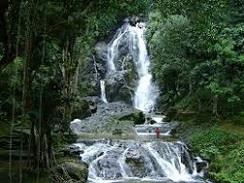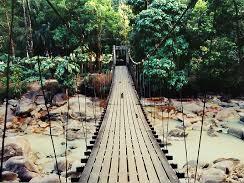 Ranong is a border town located 568 kms from Bangkok and is situated on Malaysia's west coast. Spread across 3298 kms, Ranong is close to Kra Isthums and is located between Myanmar and Indian Ocean. The city is popular among travelers looking for natural beauty and mystery of mangrove forests as it rains for about eight months every year. Tourists can travel by air from Bangkok to the local airport located 23 kms south of Ranong and travel to city by mini bus shuttles.
Here are a few things that you can visit at Ranong to make memories which last for a lifetime.
Destination Guide
Wat Tapotharam – This thermal spring is located around one kilometer from Ranong and is located amidst deep forest area. The thick forest surrounding the hot springs is maintained by local municipality as an arboretum with separate areas for bathing and resting.
Namtok Punyaban – This scenic waterfall is located around 15 kilometers before Ranong town and cascades down majestically from high cliffs and vegetation to make a refreshing picnic point for motorists.
Kra Buri River – This majestic river separates Thailand and Myanmar and is six km wide. Bordered by thick mangrove forest, the river is popular for rafting and idyllic boat trips. The river has 6 beautiful islands in its midst that are uninhabited by humans and have been left for local flora and fauna to flourish.
Rattana Rangsarn Throne Hall – It was constructed to commemorate visit of King Rama V in 1890 and is located on Niveskhiri hill. Though a large part of original building has been dismantled, a small teakwood building has been retained which is surrounded by beautifully landscaped gardens.
Lam Nam Kraburi National Park – Covering approximately 160 square kilometers, this park contains the mangrove forests around Kraburi River and the small islands along with Khlong set Kuat Forest, all of which comprises a fragile biosphere. Though this is a protected area, tourists are taken to designated regions only to avoid disturbing the fragile ecosystem of the region.
Hotel Guide
Ranong has several accommodation choices for local and international tourists from five star luxury hotels to modest homestays along with bed and breakfast hostels.
Blue Sky Resort – This four star resort is located in Mae Mai Bay and is within the mangrove forests offering panoramic views of Arabian Sea. The resort offers both local and international cuisine to guests and arranges sightseeing tours for them.
Namsai Khaosuay Resort – Located within 500 meters of the Ranong bus terminal and 15 minutes from the airport, it offers guests five star facilities and choice of European and Thai cuisine.
Baan Bunga Resort – Designed like a Korean Monastery, the hotel has longhouse buildings and pagoda style buildings which are simply decorated with white tile floors.
Bus Guide
There are mini buses and luxury sleeper buses from Bangkok, Chumphon, Phuket and Krabi to Ranong that are operated by government transport agencies and private tour operators. Route details of these transport facilities are given below:
Niomit Tour (Bus from Bangkok to Ranong)
Rung Kit (Bus from Phuket to Ranong)