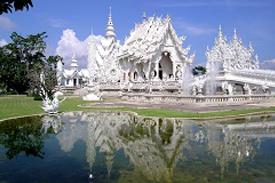 If you are planning to travel to beautiful Thailand this year, remember to keep Chiang Mai in your itinerary of must-see places, which offers the perfect mix of modern convenience and traditional culture. Chiang Mai is the cultural capital of Northern Thailand and has been a popular destination for backpackers. It is now ready to welcome luxury travelers by opening extravagant spas and luxury resorts.
Here are a few local attractions that you can enjoy and tips about travel and stay to make your trip to this enchanting place truly memorable.
Destination Guide
Chiang Mai was built during 1296 as a protected city and is surrounded by a moat which stands to this day. The city has both domestic flights coming in from locations like Bangkok and other large Malaysian cities and international flights from Asia, Europe and Australia. This 700 year old town has historical buildings, temples, botanical gardens, museums, nature parks offering day and night safaris and zoos.
Wat Prathat Doi Suthep – Located atop a hill and constructed in 1386, the temple has a winding path that passes picturesque waterfalls and provides breath-taking view of the city.
Wat Chedi Luang – This ancient pagoda relic was built in 1441 and stood at 91 meters till it was reduced to half its size during an earthquake. It has beautiful sculpture of Ubosots on the compound wall from the original structure.
Wat Phra Singh – This fifteenth century temple has the famous Phra Sihing Buddha and Holy Scriptures of Hoi Tra. The mural paintings on its walls depict scenes of Suwannahong and Sang Thong literature.
Wat Jed Yod – This seven spire Chedi was built in 1477 to host world Buddhist Council. The beautiful monument has ashes of King Tilokarat and a large Viharn with stunning murals.
Besides these, Chiang Mai also has the beautiful Mae Takhrai National Park that is located 50 meters above ground and is a must see for adventure tourists along with Chiang Mai night safari and the largest aquarium in Southeast Asia.
Hotel Guide
Visitors can enjoy cuisine from across the world at Chiang Mai's restaurants or try out local cuisine at street food outlets. You can choose from budget hotels to five star luxury hotels and also boutique hotels that give you a taste of local culture. You can have your choice of resort hotels like Oriental Siam, Sireeampan Boutique Resort, Siripanna Villa Resort and Spa, Shewe Wana Boutique Resort and Spa along with another 50 odd comfortable hotels.
Bus Guide
Chiang Mai has two prominent bus station of which one is for long distance travel to destinations across Malaysia and another one for travel within the city to places of tourist interest and other locations.
Arcade Bus Station
This bus station handles long distance buses to Bangkok and other locations. Both government owned transport companies and private transporters ply from the bus station and follow strict arrival and departure schedules. The bus services run between 6 AM to 10 PM and most of them take 11 or more hours to reach their destination.
Visitors can reach the Chiang Mai city by following buses from other Bangkok.
1) Bangkok Busline (Bus from Bangkok to Chiang Mai)
2) Siam First (Bus from Bangkok to Chiang Mai)
Chang Phuak Bus Station
Located near Chang Phuak Gate near the old city, this bus station provides bus trips to local towns and tickets can be purchased on the spot.
To visit places around Chiang Mai, you can take the city bus services in the same Bus Station