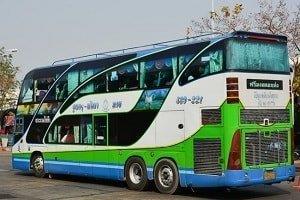 Si Mongkol Transport is a bus operator based in Nakhon Ratchasima, Isan, Thailand. Si Mongkol Transport is popular in providing bus services for north-eastern route between Pattaya and Nakhon Ratchasima.
The check-in counter for Si Mongkol Transport is located at Nakhon Rratchasima Bus Terminal and Si Mongkol Pattaya Office, Central Pattaya Road. The bus used by Si Mongkol Transport is usually VIP double-decker 24-seater bus.
During the bus journey with Si Mongkol Transport, they will provide the passengers some beverage and snack for refreshment. Moreover, lunch and washroom break will be given as well.
Routes available for Si Mongkol Transport are as follow:
Nakhon Ratchasima to Pattaya
Pattaya to Nakhon Ratchasima
Check-in counters:
1. Nakhon Ratchasima Bus Terminal, Si Mongkol Transportation Terminal
2. Si Mongkol Office Pattaya 3rd Floor Central Pattaya Road
Si Mongkol Transport Co., Ltd. Office
697/159 Sukhumvit Rd,
Tambon Ma Kham Yong, Amphoe Maung,
Chon Buri 20000, Thailand
Opening hours : 06.00 AM – 9.00 PM (daily)
Main Bus Terminal
Bus Terminal Nakhon Ratchasima
517/, 9/12 , Soi Mitra-Pab 19,
Tambon Nai Maung , Amphur Munag,
Nakhon Ratchasima 30000 Thailand
Please Note: Changes to fares and time schedules are at the discretion of the bus/ferry operators.

Sri Mongkol Schedule and Tickets
| | | | |
| --- | --- | --- | --- |
| CHONBURI | | NAKHON RATCHASIMA | |
| NAKHON RATCHASIMA | | CHONBURI | |
| NAKHON RATCHASIMA | | PATTAYA | |
| PATTAYA | | NAKHON RATCHASIMA | |