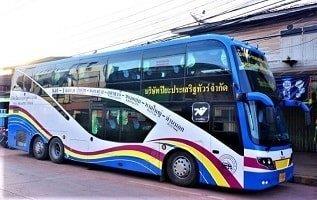 Piya Prasert Tour is one of the well-known bus operators providing bus service from the south to the east in Thailand. The trips offered cover routes such as Bueng Kan – Nong Khai – Udon Thani – Khon Kaen – Hat Yai – Dan Nok. These routes are considered as the most popular bus routes in Thailand, offered by Piya Prasert Tour.
There are 2 types of coach fleets deployed by Piya Prasert Tour. There are VIP bus with 24 seats and VIP bus with 32 seats. All the buses are fully equipped with air-conditioning and reclining seats for the comfort of the passengers during the journey. Also, Piya Prasert Tour also serves refreshments such as beverage and bread for their passengers.
Piya Prasert Tour will provide at least one stop during their journey for passengers to have some light food and washroom break. The main bus terminal of Piya Prasert Tour is located at Hat Yai Bus Terminal.
Routes available for Piya Prasert Tour are as follow:
Dan Nok (Amphur Sadao, Songkhla) to Bueng Kan
Bueng Kan to Dan Nok (Amphur Sadao, Songkhla)
Check-in counters:
1. Ticketing Agent counter Chan Tour: Dan Nok
2. Bus Station, Bueng Kan, Thailand, Counter Chan Tour
3. Hat Yai Bus Terminal Piya Rungruang Tour
Piya Prasert Tour Office
26/39 Moo 8,
Boromarajonani Road,
Chimphli, Taling Chan,
Bangkok 10170
Please Note: Changes to fares and time schedules are at the discretion of the bus/ferry operators.

Piya Prasert Tour Schedule and Tickets
| | | | |
| --- | --- | --- | --- |
| BUENG KAN | | HAT YAI | |
| BUENG KAN | | NAKHON SI THAMMARAT | |
| BUENG KAN | | PHATTHALUNG | |
| BUENG KAN | | SONGKHLA | |
| HAT YAI | | BUENG KAN | |
| HAT YAI | | KHON KAEN | |
| HAT YAI | | NONG KHAI | |
| HAT YAI | | UDON THANI | |
| KHON KAEN | | HAT YAI | |
| KHON KAEN | | NAKHON SI THAMMARAT | |
| KHON KAEN | | PHATTHALUNG | |
| KHON KAEN | | SONGKHLA | |
| NAKHON SI THAMMARAT | | BUENG KAN | |
| NAKHON SI THAMMARAT | | KHON KAEN | |
| NAKHON SI THAMMARAT | | NONG KHAI | |
| NAKHON SI THAMMARAT | | UDON THANI | |
| NONG KHAI | | HAT YAI | |
| NONG KHAI | | NAKHON SI THAMMARAT | |
| NONG KHAI | | PHATTHALUNG | |
| NONG KHAI | | SONGKHLA | |
| PHATTHALUNG | | BUENG KAN | |
| PHATTHALUNG | | KHON KAEN | |
| PHATTHALUNG | | NONG KHAI | |
| PHATTHALUNG | | UDON THANI | |
| SONGKHLA | | BUENG KAN | |
| SONGKHLA | | KHON KAEN | |
| SONGKHLA | | NONG KHAI | |
| SONGKHLA | | UDON THANI | |
| UDON THANI | | HAT YAI | |
| UDON THANI | | NAKHON SI THAMMARAT | |
| UDON THANI | | PHATTHALUNG | |
| UDON THANI | | SONGKHLA | |