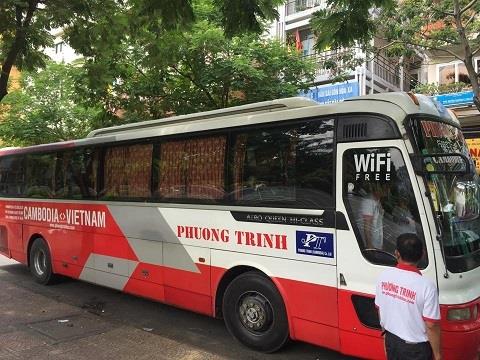 Phuong Trinh is one of express bus company in Vietnam specializing in cross border bus services from Ho Chi Minh to Phnom Penh. They operate number of buses including 27 seater VIP express coaches and 40 seater express coaches plying between Ho Chi Minh and Phnom Penh. Their fleet of buses are equipped with Wifi service offering free Wifi to passengers during the journey from Ho Chi Minh to Phnom Penh.
Phuong Trinh's counter in Ho Chi Minh is located at heart of the Ho Chi Minh city, Pham Ngu Lao, District 1. This is the area where many travelers are residing because of numerous hotels, pubs and restaurants in this area. In addition to that, short walking distance to popular Ben Than Market also make this area attractive to many travelers too. Phuong Trinh's bus arrival point in Phnom Penh is conveniently at the Sihanouk Boulevard where it is close to the riverside restaurants and bars and not far from shopping and sightseeing areas.
The Phuong Trinh bus fare from Ho Chi Minh to Phnom Penh is reasonably priced at USD11. They provide 5 daily schedules from Ho Chi Minh to Phnom Penh. The journey from Ho Chi Minh to Phnom Penh takes about 6-7 hours depending on traffic condition. Phuong Trinh dedicated management and operation team has been serving to their very best by providing top quality to passengers.
Phuong Trinh is a bus company that based in Ho Chi Minh. The company operates bus service between:
Ho Chi Minh <-> Phnom Penh
Address:
Headquarters
Phuong Trinh
275H Pham Ngu Lao,
District 1 Ho Chi Minh
Tel No: +84 866745888 or 866749888
Please Note: Changes to fares and time schedules are at the discretion of the bus/coach operators.