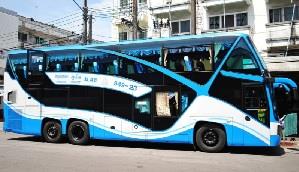 Bus Express is a bus company based in Bangkok Southern Bus Terminal (Sai Tai Mai). They are the specialist in bus route of Bangkok to Phuket. They are one of the few reliable bus operators providing bus from Bangkok to Phuket.
Bus Express provides 6 daily departures from Bangkok Southern Bus Terminal (Sai Tai Mai) to Phuket Bus Terminal. Out of these 6 daily departures, there are 1 early morning departure at 06:40, 1 afternoon departure at 15:30 and 4 remaining departures in the evening. Usually evening schedules are more popular because travellers could save their precious day time by taking overnight bus to Phuket. Jacket is recommended to bring along the overnight journey because air conditioning could get very cool in the night.
Bus Express does offer VIP bus, meaning more spacious seat coach, from Bangkok to Phuket at reasonable bus fare of THB1038. The only departure schedule with VIP bus is at 17:30. Other departure schedules provided by Bus Express are standard coach at lower bus fare of THB668. Passengers are advised to take the VIP bus for better comfort during the 13-hour journey from Bangkok to Phuket.
The company operates bus service between:
Main Bus Terminal
Southern Bangkok Bus Terminal (Sai Tai Mai)
Borommaratchachonnani Road,
Chim Phli, Taling Chan, Bangkok 10170
Please Note: Changes to fares and time schedules are at the discretion of the bus/ferry operators.

Bus Express Schedule and Tickets
| | | | |
| --- | --- | --- | --- |
| BANGKOK | | PHUKET | |
| PHUKET | | BANGKOK | |