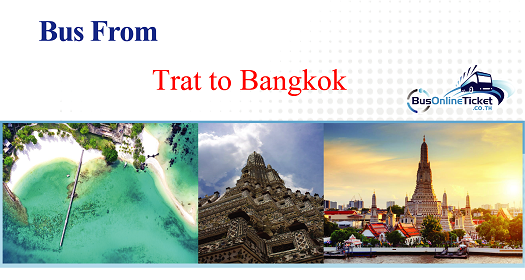 Check Bus from Trat to Bangkok Bus Schedule >>
Bus from Trat to Bangkok is the popular option to travel. Bangkok has many famous tourist attractions and shopping areas. Especially the night markets such as Train Night Market Srinakarin, Train Night Market Ratchada, and Tawanna Market and don't miss to drop and shop at Chatuchak Market where you can buy a lot of cheap products like fashionable clothes, accessories, trees, pets, and food, etc. Once you come, you will fall in love with Bangkok!.
How to Get from Trat to Bangkok
Bus service is the first choice of public transportation to travel from Trat to Bangkok. By taking bus, you can also enjoy beautiful scenery along the way.
Taking flight is the most expensive method to travel. Budget airline and commercial airline ticket price is usually 2 or 3 times more expensive than bus ticket price.
How Long is the Journey to get from Trat to Bangkok
The duration required from Trat to Bangkok by bus is approximately 5 hours. Please note that the bus travel time from Trat to Bangkok is depending on the weather and road traffic conditions on the departure day.
How Far is Trat to Bangkok
The route distance from Trat to Bangkok is about 320 km.
Bus Operator for Trat to Bangkok
Triple T is the only bus operator that offers bus from Trat to Bangkok. Triple T provides 27 departures per day. They start serving at 04:00 am. till 07:00 pm.
How much is the Bus Fare from Trat to Bangkok
The bus fare from Trat to Bangkok is priced THB 310 for minivan service and THB 340 for minibus service.
Where is the Boarding Point in Trat
The boarding point in Trat is at Trat Bus Terminal.
Where is the Arrival Point in Bangkok
The arrival point in Bangkok is located at Bangkok Bus Terminal (Ekamai) and Mini Bus Station (Chatuchak).
How do I Book Bus Service from Trat to Bangkok?

You can either visit the terminal and go the booth belonging to the bus operator of your choice, wait in line, select a seat, and book your ticket. If you would rather not do that, you can visit www.busonlineticket.co.th and book your seat within 5 minutes.
How can I make an online bus ticket booking in Thailand?
You can book a bus of your choice to any destination in Thailand by logging on to the official website of BusOnlineTicket which is https://www.busonlineticket.co.th/. The site is user-friendly and you can book your bus ticket in a matter of minutes.
Bus from Trat to Bangkok Bus Schedule