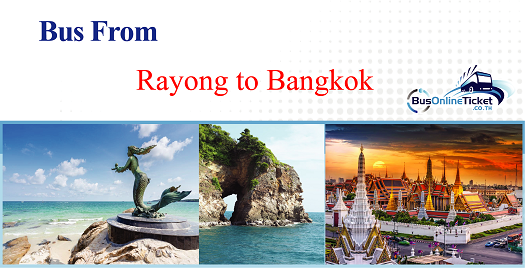 Check Bus from Rayong to Bangkok Bus Schedule >>
Bangkok has many tourist attractions and a prominent place to visit like temples. You can travel to visit many temples in one day. Those temples are located near the BTS Skytrain line such as Wat Bang Na Nai nearby Bangna BTS Station, Wat Dhammamongkol nearby Punnawithi BTS Station, Wat Mahabut nearby Onnuch BTS Station, Wat That Thong nearby Ekkamai BTS Station and the last recommended temple you should not miss is Wat Patumwanaram near Siam BTS Skytrain. There are many other temples on Sukhumvit Line, BTS Skytrain.
How to Get from Rayong to Bangkok
Bangkok can be reached easily from Rayong either by bus. Bus transport is the only way to get to Bangkok from Rayong.
How Long is the Journey to get from Rayong to Bangkok
The duration required from Rayong to Bangkok by bus is approximately 3 hours. It is depending on the weather and road traffic conditions on the departure day.
How Far is Rayong to Bangkok
The route distance from Rayong to Bangkok is about 183 km.
Bus Operator for Rayong to Bangkok
Rayong Tour is the only bus operator serving bus from Rayong to Bangkok. They have many daily departures, from 3:00am to 7:30pm.
How much is the Bus Fare from Rayong to Bangkok
The bus ticket price from Rayong to Bangkok is charged in a range of THB 210 to THB 250. The fare will be charged depending on your selection of drop off point.
Where is the Boarding Point in Rayong
The boarding point in Rayong is at Rayong Bus Terminal 2.
Where is the Arrival Point in Bangkok
The arrival point in Bangkok is located either at Bangkok Bus Terminal (Ekkamai), Bangkok Bus Terminal (Sai Tai Mai) or Mini Bus Terminal (Chatuchak).
How do I Book Bus Service from Rayong to Bangkok?

You can either visit the terminal and go the booth belonging to the bus operator of your choice, wait in line, select a seat, and book your ticket. If you would rather not do that, you can visit www.busonlineticket.co.th and book your seat within 5 minutes.
How can I make an online bus ticket booking in Thailand?
You can book a bus of your choice to any destination in Thailand by logging on to the official website of BusOnlineTicket which is https://www.busonlineticket.co.th/. The site is user-friendly and you can book your bus ticket in a matter of minutes.
Bus from Rayong to Bangkok Bus Schedule