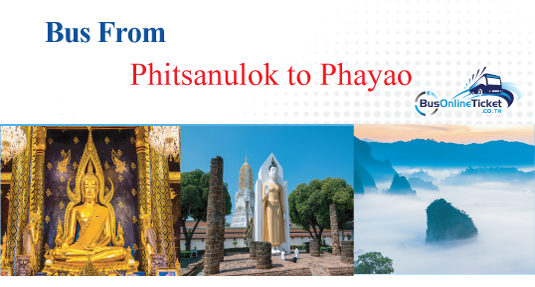 Check Phitsanulok to Phayao Bus Schedule >>

Phayao is known as a peaceful lakeside town. Phayao is home to many temples and historical sites such as Ban Rong Hi and Wat Analayo Thipphayaram.
How to Get from Phitsanulok to Phayao
Bus from Phitsanulok to Phayao is the easiest and most effective way to travel to Phayao from Phitsanulok. Many locals and travellers staying in Phitsanulok rely on bus service as their preferred mode of transportation to Phayao because there is no airport and train station in Phayao.
How Long is the Journey to get from Phitsanulok to Phayao
The duration required from Phitsanulok to Phayao takes approximately 5 hours. Passengers are advised to bring along your jacket or travel pillow to help you get comfortable during the journey.
How Far is Phitsanulok to Phayao
Distance from Phitsanulok to Phayao is about 352.9 km.
Bus Operator for Phitsanulok to Phayao
Win Tour Phitsanulok is the only bus service provider that offers bus from Phitsanulok to Phayao. Win Tour is a popular bus company with headquarter based in Sukhothai. The company use P1 bus type to serve to serve passengers from Phitsanulok to Phayao. All P1 buses deployed Win Tour Phitsanulok are fully equipped with air-conditioning, spacious legroom and have toilets on board.
The bus schedule from Phitsanulok to Phayao is limited by having only 1 daily departure at 8:15am.
How much is the Bus Fare from Phitsanulok to Phayao
The bus fare from Phitsanulok to Phayao costs reasonably at THB295.
Where is the Boarding Point in Phitsanulok
The boarding point in Phitsanulok is located at Bus Terminal Station Phitsanulok.
Where is the Arrival Point in Phayao
The arrivals point in Phayao is at Phayao Bus Terminal. From Phayao Bus Terminal, you can take only a 10-minutes of walking to Kwan Phayao, a beautiful large lake in Phayao.
How do I Book Bus Service from Phitsanulok to Phayao?

You can either visit the terminal and go the booth belonging to the bus operator of your choice, wait in line, select a seat, and book your ticket. If you would rather not do that, you can visit www.busonlineticket.co.th and book your seat within 5 minutes.
How can I make an online bus ticket booking in Thailand?

You can book a bus of your choice to any destination in Thailand by logging on to the official website of BusOnlineTicket which is https://www.busonlineticket.co.th/. The site is user-friendly and you can book your bus ticket in a matter of minutes.
Phitsanulok to Phayao Bus Schedule