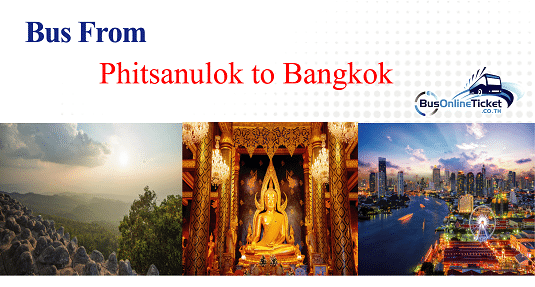 Check Bus from Phitsanulok to Bangkok Bus Schedule >>
Phitsanulok to Bangkok is one of the popular routes in Thailand. Bangkok is the capital city of Thailand. The famous places to visit in Bangkok are The Grand Palace, Wat Arun, Chatuchak Weekend Market, Asiatique The Riverfront, Maeklong Railway Market and many more.
How to Get from Phitsanulok to Bangkok
Many locals as well as travellers prefer to take bus service back to Bangkok after spending time in hometown or spending their historical walk in Phitsanulok.
While direct flight service is available from Phitsanulok to Bangkok, flight fare is often more expensive than bus fare. Therefore, travelling from Phitsanulok to Bangkok by bus is always the first choice for travellers.
How Long is the Journey to get from Phitsanulok to Bangkok
The duration required for bus service from Phitsanulok to Bangkok is approximately 5 hours. The actual travelling time is depending on the road traffic and weather conditions on the departure day.
How Far is Phitsanulok to Bangkok
Distance from Phitsanulok to Bangkok is about 381 km.
Bus Operator for Phitsanulok to Bangkok
Win Tour Phitsanulok is the only bus company offering bus from Phitsanulok to Bangkok. Wintour Phitsanulok also known as Sukhothai Wintour Phitsanulok. The operator always deploys two drivers for each trip to take turns in driving to ensure passengers' safety.
Win Tour Phitsanulok offers total up to 7 daily trips from Phitsanulok to Bangkok. The earliest bus is 9:30am. The following bus schedules are 10:15am, 11:45am, 2:20pm, 10:15pm, 11:00pm and 11:45pm.
Most of the Win Tour bus schedule are operating with P1 coach type, except 2:20pm service is running with VIP coach at higher bus fare. Passengers who are expecting more comfortable journey could take up VIP coach which has more spacious seat.
How much is the Bus Fare from Phitsanulok to Bangkok
The ticket price for bus from Phitsanulok to Bangkok is priced reasonably in the range of THB330 to THB378.
Where is the Boarding Point in Phitsanulok
The boarding point in Phitsanulok is located at Bus Terminal Station Phitsanulok.
Where is the Arrival Point in Bangkok
The arrivals point in Bangkok is Bangkok Bus Terminal (Chatuchak). From there, you can take public transports to travel around Bangkok.
How do I Book Bus Service from Phitsanulok to Bangkok?

You can either visit the terminal and go the booth belonging to the bus operator of your choice, wait in line, select a seat, and book your ticket. If you would rather not do that, you can visit www.busonlineticket.co.th and book your seat within 5 minutes.
How can I make an online bus ticket booking in Thailand?

You can book a bus of your choice to any destination in Thailand by logging on to the official website of BusOnlineTicket which is https://www.busonlineticket.co.th/. The site is user-friendly and you can book your bus ticket in a matter of minutes.
Bus from Phitsanulok to Bangkok Bus Schedule