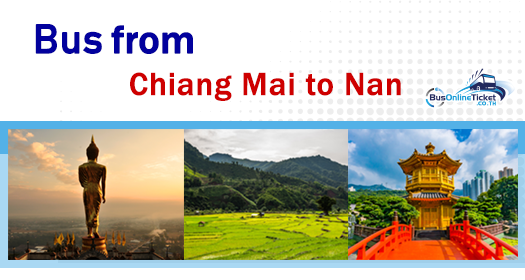 Check Chiang Mai to Nan Bus Schedule >>
Nan is a charming town which houses a vast number of temples and cultural sites. Therefore, Nan has become one of the popular destinations in Thailand for tourists to experience the authentic Thai culture.
How to Get from Chiang Mai to Nan
Bus from Chiang Mai to Nan is the best choice of transportation to visit Nan from Chiang Mai. There is no flight and train service available for this route.
How Long is the Journey to get from Chiang Mai to Nan
The duration required from Chiang Mai to Nan by bus is approximately 5 hours.
How Far is Chiang Mai to Nan
The route distance is about 333 km.
Bus Operator for Chiang Mai to Nan
Greenbus is the only bus company serving bus from Chiang Mai to Nan. GreenBus offer a frequent bus schedule from Chiang Mai to Nan that have up to 12 daily departures with several choice of drop off points in Nan.
The earliest bus goes at 7:15am while the latest bus leave at 10:30pm. In between, there are number of buses will depart from Chiang Mai to Nan.
How much is the Bus Fare from Chiang Mai to Nan
Depending on the type of coach you choose, the bus fare from Chiang Mai to Nan pricing varies in a range of THB231 to THB529.
Where is the Boarding Point in Chiang Mai
The departure point in Chiang Mai is located at Chiang Mai Bus Station 3.
Where is the Arrival Point in Nan
The arrival point in Nan is either located at Nan Bus Terminal or Nan Bus Terminal (Amphoe Tung Chang).
How do I Book Bus Service from Chiang Mai to Nan?

You can either visit the terminal and go the booth belonging to the bus operator of your choice, wait in line, select a seat, and book your ticket. If you would rather not do that, you can visit www.busonlineticket.co.th and book your seat within 5 minutes.
How can I make an online bus ticket booking in Thailand?

You can book a bus of your choice to any destination in Thailand by logging on to the official website of BusOnlineTicket which is https://www.busonlineticket.co.th/. The site is user-friendly and you can book your bus ticket in a matter of minutes.
Chiang Mai to Nan Bus Schedule