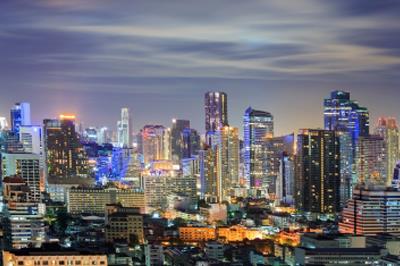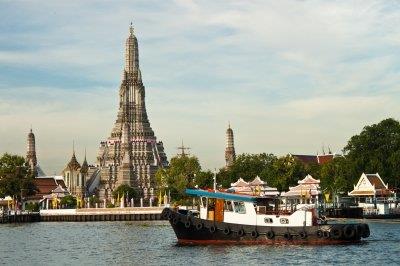 The first impression that visitors to Bangkok, Thailand's capital city get is of grandeur and opulence. The city takes in visitors from around the world at all hours of the day and night. It is also called Venice of the East due to the majestic Chao Phraya River that meanders through the outskirts of Bangkok city feeding its distributors and providing transport to its residents.
Here are few vital things you must know about places of tourist interest and hotels of this wonderful city.
Destination guide
Bangkok is the capital of Thailand and is home to its royalty. The Wat Phra Kaeo or the Grand Palace built in 1782 has been the residence of its royal family for generations and also houses the revered Jade Buddha.
Wat Pho – This is the oldest temple of Bangkok that was built centuries ago by King Rama I which is considered as a temple of healing. Also referred to as the Temple of Reclining Buddha for the 45 meter long statue, it is a must see for tourists.
Wat Traimit – Temple of the Golden Buddha is famous for the majestic 3.5 meter tall Buddha statue from the early Sukhothai period.
Wang Na Palace and Museum – Built by Rama I, the old palace is now a beautiful museum with ceremonial artifacts donated by the royal family. It has the largest collection of Buddha figures in the world that have been arranged era-wise.
Damnoen Saduk Floating Market – Located in Ratchaburi which is 1.5 hours from Bangkok city, this exclusive market is the best place for fresh fruits and local specialties.
Jim Thompson House – The mysterious disappearance of Jim Thompson, entrepreneur and WWII veteran made the government to turn his house into a museum. It also offers details about Thailand's old silk industry.
Hotel guide
Bangkok can be divided into three areas that are popular among tourists. This may be due to their proximity to shopping destinations and easy access to transport networks like the Skytrain.
The Mandarin Oriental Bangkok is among the oldest luxury hotels in the city that was opened as a lodge for seamen nearly 125 years ago.
The St. Regis Bangkok blends modern elegance and comfort with impeccable service and luxury.
Hotel Muse located minutes away from Chit Lom station and is just 15 minutes away from Siam's shopping area. The luxury hotel also provides shuttles for its guests to Central Chitlom.
Oriental Residence is favored by tourist from Europe as it is close to the Embassy and is also within walking distance of shopping areas of Siam and Silom.
Bus guide
There are a large number of bus services to and from Bangkok that are operated by private and government agencies. The largest fleet is owned and operated by government agency Bangkok Mass Transit Authority. There are 24 hour bus services from Transport Center at the Airport to anywhere in the city with clearly defined routes and stops.
Short distance buses that move within the city have air-conditioned and non-air-conditioned buses and have color codes like orange, green, cream, red and numbers according to routes and designated zones.
Long distance buses from northern and southern provinces to Bangkok arrive at the Morchit Bus Station and are usually air-conditioned sleeper and semi sleeper buses. Some of the popular bus services to Bangkok include bus from Chiangmai to Bangkok, Phuket to Bangkok, Krabi to Bangkok and many more. Meanwhile, popular bus services departing from Bangkok are:
1) Bangkok Busline (Bus from Bangkok to Chiang Mai)
2) Lignite Tour (PK) (Bus from Bangkok to Krabi)
3) Phuket Travel (Bus from Bangkok to Phuket)
Booking Bangkok bus tickets is now easier with BusOnlineTicket.co.th. You can easily check bus schedule and book your bus tickets online to save the time, cost and effort of going to the terminal just to buy the tickets.