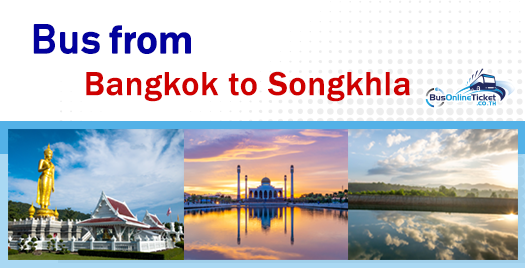 Check Bangkok to Songkhla Bus Schedule >>
Bus from Bangkok to Songkhla is one of the famous tourist routes in the South. Songkhla is well known. They are many beautiful beaches and islands. A lot of travelers usually use the bus for traveling because it's easy to reach destination and worthy price.
How to Get from Bangkok to Songkhla
Both tourists and locals take the bus service to from Bangkok to Songkhla to travel and spend time on leisure weekend.
How Long is the Journey to get from Bangkok to Songkhla
The duration required from Bangkok to Songkhla by bus is about 13.5 hours.
How Far is Bangkok to Songkhla
The road distance is 941 km from Bangkok to Songkhla.
Bus Operator for Bangkok to Songkhla
Siam Dernrod, Piya Rungrueng Tour, and Sri Siam Tour are bus operators serving bus from Bangkok to Songkhla.
Their combined trips provide 11 daily departures. The first bus departs at 7:00am, and the last departs at 7:30pm.
How much is the Bus Fare from Bangkok to Songkhla
The bus ticket price from Bangkok to Songkhla is charged between the range of THB 698 to THB857, depending on your selection of coach type and bus operator.
Where is the Boarding Point in Bangkok
Bus will pick up passengers at Southern Bus Terminal Bangkok (Sai Tai Mai).
Where is the Arrival Point in Songkhla
There are many drop off points, at Hat Yai Bus Terminal, Rattaphum intersection, Ban Nam Krachai intersection, Songkhla Bus Terminal, Muang Ngam sub-district, Pakho, Sating Phra district, Ranot intersection, Rap Prek intersection in Ranot, Jana Bus Terminal, Nathawee Bus Terminal, Tha Chamuang, Khao Phra sub-district, Na Si Thong sub-district, Padang Besar sub-district, Sadao Border, Dan Nok sub-district, Klong and Ban Prik.
How do I Book Bus Service from Bangkok to Songkhla?

You can either visit the terminal and go the booth belonging to the bus operator of your choice, wait in line, select a seat, and book your ticket. If you would rather not do that, you can visit www.busonlineticket.co.th and book your seat within 5 minutes.
How can I make an online bus ticket booking in Thailand?

You can book a bus of your choice to any destination in Thailand by logging on to the official website of BusOnlineTicket which is https://www.busonlineticket.co.th/. The site is user-friendly and you can book your bus ticket in a matter of minutes.
Bangkok to Songkhla Bus Schedule