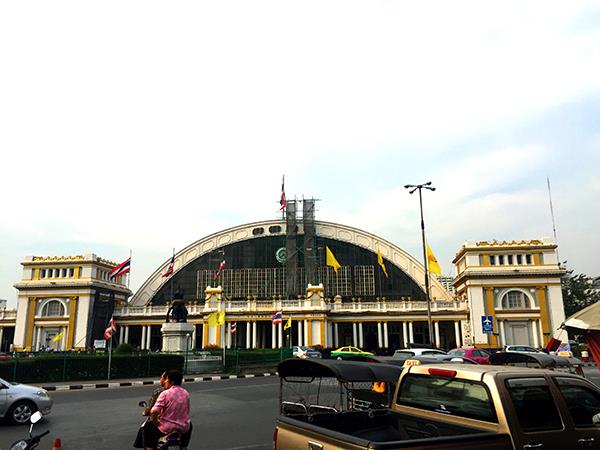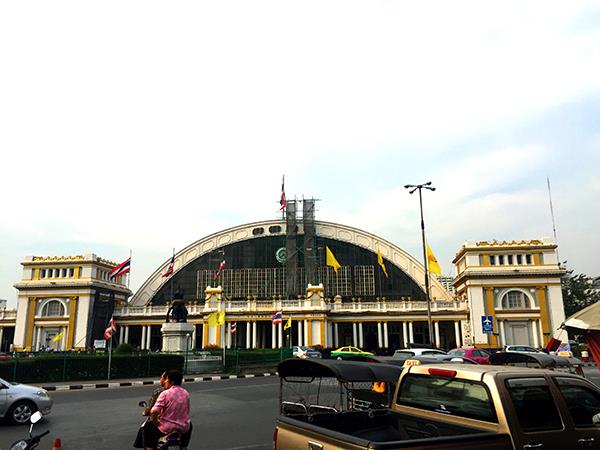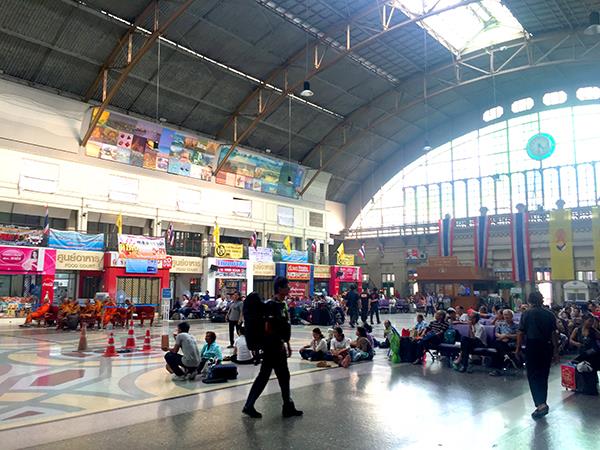 GENERAL INFORMATION
Hua Lamphong Railway Station is the main train station in Bangkok located in Pathum Wan District in the middle of Bangkok city. Bangkok being in the central zone of Thailand, Hua Lamphong Railway Station often becomes the connecting point for the train from the north, south, west and east zone. It is probably the busiest train station in Bangkok as it serves up to 60, 000 passengers per day.
The building has a unique architecture built in Italian Neo-Renaissance-style. It has a dome shape design painted in yellow and white colour. The entrance of the Bangkok train station leads to 26 ticket counters, ticket office for foreigners and the waiting area. Foreigners should have no problem navigating in the Hua Lamphong Train Station as the signboards and notices are translated in English.
ARRIVALS AND DEPARTURES
There are two display boards on top of the ticket counter to inform the departures and the arrivals of the train. The departure platform is numbered and you can see the destination its heading on a screen below the platform number for a clearer direction.
On the screen below the platform number, you can also see the train number and the departure time so you can compare it with your train ticket to make sure you are boarding the right train.
HOW TO GET HERE
You can go to Hua Lamphong Train Station by taxi, local city bus or MRT.
Taxi – Although you have to pay more if you take a taxi, it could be the most convenient way to go to Hua Lamphong Train Station especially if you are from a location with no other options of public transportation. Make sure you take a metered taxi. From Khao San Road to Hua Lamphong should cost not more than 100THB.
Bangkok MRT – Bangkok MRT is a subway train and the system is connected to the Hua Lamphong Station. An underground pathway connects the Hua Lamphong MRT Station with the train station so you do not have to worry about crossing the busy road.
BTS Skytrain – Apart from MRT which is a subway train, Bangkok also have BTS Skytrain that travels above the ground. However, BTS Skytrain is not connected to Hua Lamphong Train Station. If you take BTS Skytrain, the interchange points from BTS Skytrain to MRT are at Silom Station, Sukhumvit Station and Chatuchak Park/Mo Chit Station.
Local city bus – local city bus in Bangkok operates by BMTA (Bangkok Mass Transit Authority). There are local city buses that travel to Hua Lamphong Train Station.
However, please note that the traffic in Bangkok can very congested so if you are planning to travel by the local city bus, the taxi or the tuk tuk, please spare more time so you can arrive at the train station early and avoid missing your train's departure time. The local city bus also might make a lot of stops so please make research the route before your depart.
AMENITIES
You can find many ticket counters in the train stations. Booking Bangkok train tickets can also be done online. Restaurants are available in Hua Lamphong Train Station in case you arrive early for your train departure and you need something to eat. The train station also offers service to store your luggage with certain amount of charges. Moreover, Muslims can also find prayer room in the train station for their convenience.
TIPS
As the train station is heavily crowded with people, please take care of your belongings well and be aware of pickpockets. Also, watch out for the ticket touts scattering the train station, as there are many passengers reported being scammed by these people. Go directly to the counter to purchase your tickets. Alternatively, you can book your Thailand train ticket online at BusOnlineTicket.co.th.
LOCATION OF HUA LAMPHONG TRAIN STATION