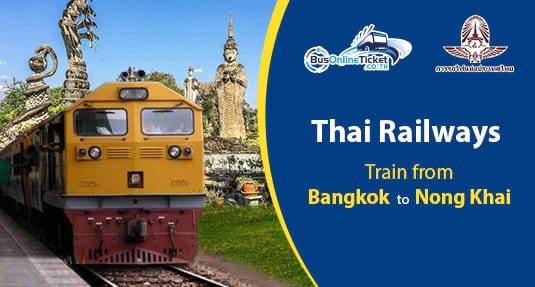 Train from Bangkok to Nong Khai
Train from Bangkok to Nong Khai is popular among the locals and tourists for many reasons. Nong Khai is one of the provinces in the Isaan (North Eastern) region in Thailand. Lies on the Mekong River, Nong Khai is the gateway to Vientiane and other parts of Laos. Hence, locals and tourists usually take Bangkok to Nong Khai train to go to the neighbour country.
Nong Khai itself has many attractions for you to visit. One of the most remarkable one is the Sala Keo Kou (ศาลาแก้วกู่), a park filled with beautiful sculptures. Nong Khai also has many festivals along the year and you can also try the local foods. Furthermore, visit the Thasadet Market where you can find souvenirs and see locals' handmade crafts.
Train Schedule, Train Ticket Type and Train Ticket Price
There are limited train schedule from Bangkok to Nong Khai, thus advance online booking is advised especially if you wish to travel comfortably. The price for the train ticket from Bangkok to Nong Khai depends on the train type and the ticket type you choose.
Below is the schedule for the train tickets available for online booking at BusOnlineTicket.co.th:
Time
Train No
Train Type
Ticket Type
Price (THB)
8:20


Est. Arrival: 17:45

75
Express
2nd Class AC Seat
528
3rd Class Fan Seat
283
18:35


Est. Arrival: 4:15

77
Express
2nd Class AC Seat
528
3rd Class Fan Seat
283
20:00


Est. Arrival: 6:45

25
Special Express
1st Class AC Sleeper
1,587
2nd Class AC Sleeper
1,028
* Time and fares might change depending on the season, subject to the operator
** AC = Air Conditioned
| | |
| --- | --- |
| Book Train from Bangkok to Nong Khai Online | Book Now |
Reminder : You must print out the E-Ticket sent to your email. Without the printed ticket, you might not be able to board the train. Tickets shown from the phone or tablet might not be valid.
Trip Distance & Duration
The distance between Bangkok and Nong Khai is about 625km, follows the Northern Eastern Line. The fastest train from Bangkok to Nong Khai is train #75 with estimated duration around 9 hours 25 minutes. Meanwhile, train #77 takes slightly longer time around 9 hours 40 minutes.
Train #25 departs at night and takes around 10 hours 45 minutes to reach Nong Khai. However, this is a sleeper train and arrives at 6.45AM the next day, which is very convenient for the travelling passengers. The 1st Class AC Sleeper ticket type is the most popular choice among passengers that take the train from Bangkok to Nong Khai.
Departure Point – Hua Lamphong Train Station
Hua Lamphong Train Station is the main train station in Bangkok. It is probably the busiest train station in Thailand, receiving thousands of passengers daily. In fact, Bangkok Hua Lamphong Train Station connects the trains from all parts of Thailand.
Going to Hua Lamphong Train Station is easy. There are many local transportation options available that connect other parts of Bangkok to the train station such as MRT, BTS Skytrain, local bus, taxis and tuk tuk. On top of that, the train station is also connected to the Hua Lamphong MRT station by an underground pathway so taking MRT to the Hua Lamphong Train Station is probably the most convenient yet cheaper option available.
Learn more about Hua Lamphong Train Station »
Arrival Point – Nong Khai Train Station
Nong Khai Train Station is situated conveniently close the border between Thailand and Laos. Moreover, it is also near to the town where passengers can book for hotels and look for food. From the train station, there will be tuk tuk waiting to take you to your next destination. Expect to pay around 50-100 THB per person for the tuk tuk ride. Bargain for the price nicely and wisely with the tuk tuk driver.
Amenities
SRT trains in Thailand normally have toilet on-board, especially since the train trip duration is long. There are also foods available on the train from 100 THB for breakfast and 200 THB for dinner. In between the stops, some vendors will also sell snacks and food on the train. Alternatively, you can buy food in Hua Lamphong before your train departure.
For sleeper train, the staffs will provide a new clean pillow and blankets for all passengers. Passengers with the 1st Class ticket type will have a special compartment for two person. If you booked one ticket, you will find yourself with another passenger. There is a basin available in each compartment.
Tips
Book your train tickets from Bangkok to Nong Khai in advance online at BusOnlineTicket.co.th. Since this is one of the popular train routes in Thailand, the tickets usually are sold out quickly especially for sleeper trains. Booking online with BusOnlineTicket.co.th is easy with our mobile friendly website and various options of payment gateway.