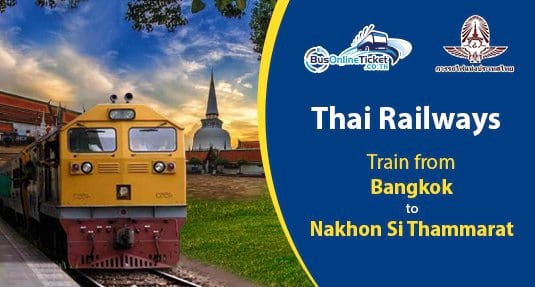 Nakhon Si Thammarat is the second largest province in the southern part of Thailand. Adjacent provinces of Nakhon Si Thammarat include Songkhla, Phatthalung, Trang, Krabi and Surat Thani. Train from Bangkok to Nakhon Si Thammarat is particularly popular among working adults to travel back and forth from their hometown on weekends or public holidays.
Nakhon Si Thammarat plays an important role in the economy, society, politics and religion in Thailand. The province is widely known in the Southeast Asia. It has many archaeological sites and other attractions that lead the locals and tourists to come for a visit too. Some of the most popular places to visit in Nakhon Si Thammarat include the Phra Mahathat Woramaha Wiharn, Khanom Beach and Kiriwong Village.
Train Type, Ticket Type & Ticket Price
There are limited train trips daily from Bangkok to Nakhon Si Thammarat. The ticket price depends on the train type and the ticket type that you choose. Below is the train schedule for train from Bangkok to Nakhon Si Thammarat available for online booking at BusOnlineTicket.co.th:
Time
Train No
Train Type
Ticket Type
Price (THB)
17:35


Est. Arrival Time: 09:55

173
Rapid
2nd Class AC Sleeper
838
2nd Class Fan Sleeper
598
2nd Class Fan Seat
448
3rd Class Fan Seat
273
19:30


Est. Arrival Time: 10:55

85
Express
1st Class AC Sleeper
1,502
2nd Class AC Sleeper
898
2nd Class Fan Seat
488
3rd Class Fan Seat
313
* Time and fares might change depending on the season, subject to the operator
** AC = Air-conditioned
| | |
| --- | --- |
| Book Train from Bangkok to Nakhon Si Thammarat Online | Book Now |
Reminder: You must print out the E-Ticket sent to your email. Without the printed ticket, you might not be able to board the train. Tickets shown from the phone or tablet might not be valid.
Trip Distance & Duration
The distance between Bangkok and Nakhon Si Thammarat is around 780km by train. Train #173 is a Rapid train and the travel time is around 16 hours 40 minutes. Meanwhile, Express train #85 takes less time around 15 hours 25 minutes from Bangkok to Nakhon Si Thammarat. It is a long journey. Therefore, choose the 2nd Class ticket type, which is considered to be the best option to travel to Nakhon Si Thammarat.
Departure Point – Hua Lamphong Railway Station
Hua Lamphong Railway Station is the main train station in Bangkok. The location of the train station is in the middle of Bangkok city and accessible by many public transportation. Hua Lamphong Railway Station is a big building and complete with many facilities such as toilets, spacious waiting areas, restaurants and ticket counters.
Passengers can easily go to Hua Lamphong Railway Station by MRT, BTS Skytrain, local buses, taxis and tuk tuk. In fact, the train station is linked to Hua Lamphong MRT Station by an underground pathway. Therefore, passengers can easily walk between the two stations safely. For more detailed information, please visit our guide of Hua Lamphong Railway Station.
Arrival Point – Nakhon Si Thammarat Railway Station
Nakhon Si Thammarat Railway Station is located at Yomaraj Road, Tambon Tha Wang, Amphoe Mueang Nakhon Si Thammarat. The train station is a terminus from Khao Chum Thong Junction. Since the train station is in the middle of the town, it is very convenient for the passengers to hire a ride from the train station. Upon arrival, there will be a motorbike taxi and tuk tuk available to take the passenger to their next destination.
Amenities
The journey from Bangkok to Nakhon Si Thammarat take hours. Thus, toilets are available on-board for the passengers. You can also buy food from the canteen coach or wait for the staffs to walk around to sell food. The price is from 100 THB for breakfast and 200 THB for dinner. Otherwise, you can buy food before the departure at Hua Lamphong Railway Station or other shops and bring them on-board. For those who bought sleeper train ticket, the staffs will provide you with a new clean pillow and blankets.
Tips
Since the journey takes more than 10 hours to reach, we highly recommend you to book the sleeper train so you can lie down and have better comfort throughout the whole journey. Bring laptop or other source of entertainment so you can fill in the time with something you enjoy. Also, since there are limited trip daily, book your tickets in advance online to avoid disappointment. You can easily check the schedule and tickets availability at BusOnlineTicket.co.th and book your tickets on the website.