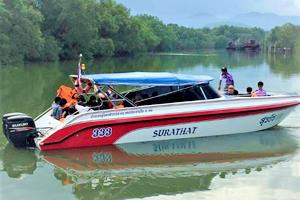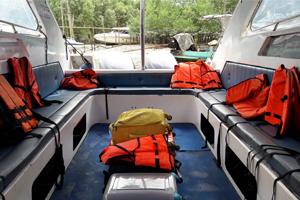 Surathat Speedboats offers speedboat service from mainland Ranong to Koh Phayam, and from Koh Phayam to Ranong. Surathat Speedboats is the preferred speedboat company among Thai locals and tourists alike. This reputable company has many years of experience and is well-known for its safety and reliability.
Each speedboat can take up to 28 passengers and 3 staff personnel. There are sufficient life jackets on-board for each passenger. There is also an area for luggage in the speedboat.
The trip duration from Ranong Pier to Koh Phayam Pier is 1 hour, and likewise in the opposite direction. Trip frequency is dependent on tide conditions, as well as the tourist season.
On top of speedboat services, Surathat Speedboats also offers transfer service at Ranong Bus Terminal and Choke Anan Tour Office (Ranong). Passengers taking the bus from Bangkok to Ranong, or from Chumphon to Ranong, can arrange for pick-up at either of these two locations.
Headquarters
Surathat Speedboats Office at Ranong Pier (to Koh Phayam)
Tambon Bang Rin, Amphoe Mueang, Ranong, 85000